Hallo teman2…. Ikutilah acara insight IT pada tg 17 April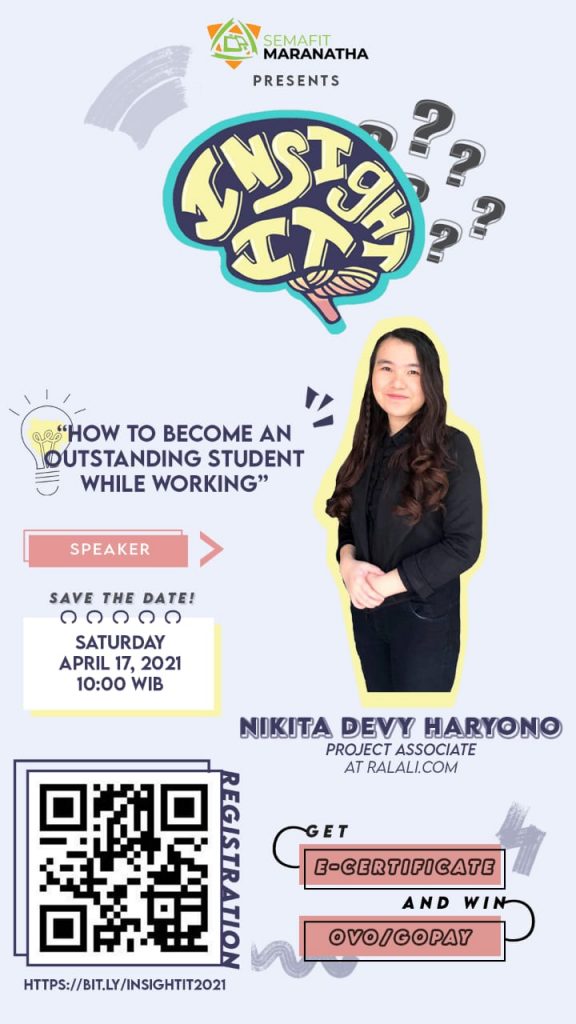 .
Alumni FIT UKM Nikita Haryono adalah pelajar yg memiliki segudang prestasi yg menakjubkan:
• Magang sebagai Technical writer di Ralali.com semasa kuliah membawa nya berkarier sebagai Project Associate at Rarali.com
• Mendapatkan Bea Siswa unggulan dari Kemendikbud
• Juara ke 4 Pemilihan Mahasiswa Berprestasi Tingkat Nasional th 2019 yang diselenggarakan oleh Kemendikbud
• Ambassador of Maranatha Christian University & OCBC NISP
• Participant of International Competition Choir UKM di Certamen de Habneras Polifonia
• Internasional Business & Competitive Programming Competitive Participant
• Coordinator of Secretary Division of FIT Student Service
• MCUC Partner Division of Maranatha Christian University Choir 2020
• Vice President of FIT Student Senate ( SEMAFIT) 2020
• Secretary Division of FIT Student Senate ( SEMAFIT) 2018
• Laboratory staff faculty of information Technology MCU
• Get Dean Award every semester
• Lulus dengan CUMLAUDE dengan IPK sempuna = 4…….hebat ya 👍👍
.
Yuuk dengar kisah kesuksesannya….agar dpt menjadi penyemangat buat kalian semua .